Class Information for Paladin
Type:
Crusader (Fighter)
City:
Kelethin, New Halas
Primary Stat:
Strength
Armor:
Plate Armor
Weapons:
Swords, Hammers, Axes, Spears, Staffs, Great Swords, Great Hammers, Great Axes, Great Spears, Bows, Symbols
Shields:
Bucklers, Round Shields, Kite Shields, Tower Shields, Symbols
Expert Spells:
Combat Arts (Rare Loam)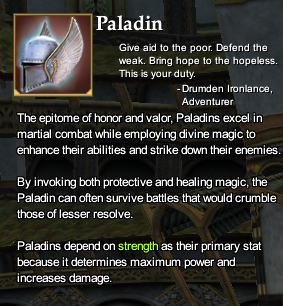 Those who desire to fulfill a role of nobility, honor, and virtue will find the Paladin profession to be ideal. The Paladin excels in martial combat and possesses divine magical abilities to enhance their skills in combat. As a true martial combatant, the Paladin is most efficient on the front lines where they are able to engage the enemy in close combat. By invoking their protective magic, the Paladin may temporarily augment their martial skills, increasing their capabilities for both defense and healing during a fight.

Epic Weapon
Edit
Class Hat
Edit
Ceremonial Armor
Edit
Class Armor
Edit
-EOF-
-ROK-
-TSO-
Plate Cleric/Crusader/Warrior Series
Crusader Series
Paladin
-PvP Server Only-
-SF-
Offensive plate set
Defensive plate set
See also
Edit
Combat Arts By Category
Edit
The first combat art in each category is listed. See the detailed description for the full upgrade line.
Buffs & Taunts

Offensive Buff

Defensive Buff

Miscellaneous Buff

Taunt

Utility

Heals

Protection

Specialty

Fun Spells
Spells & Combat Arts by level
Edit
Grandmaster Training Choices
Edit
Tier 2 - Level 14
Tier 3 - Level 24
Tier 4 - Level 34
Tier 5 - Level 44
Tier 6 - Level 54
Tier 7 - Level 64
Tier 8 - Level 75
Tier 9 - Level 85
Tier 10 - Level 95
Tier 11 - Level 105
Tier 12 - Level 115
All items (16)
Community content is available under
CC-BY-SA
unless otherwise noted.