Class Information for Mystic
Type:
Shaman (Priest)
City:
New Halas, Kelethin
Primary Stat:
Wisdom
Armor:
Chain Armor
Weapons:
Hammers, Spears, Staves, Great Spears, Great Hammers, Symbols
Shields:
Buckler, a few Round Shields, Symbols
Expert Spells:
Spells (Rare Gem)

Links to All Relevant Categories for: Priest > Shaman > Mystic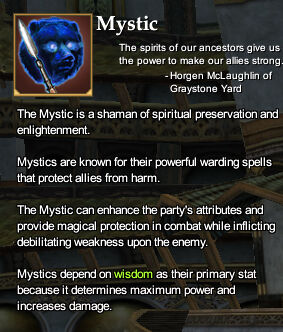 Those who seek a symbiotic connection with the spirit world in order to fulfill a supportive role will find the Mystic to be to their liking. The Mystic is a shaman of spiritual preservation and enlightenment, offering magical healing and relief from disease and poison. The Mystic can also use their powers to grant brief enhancements to their allies' attributes and provide magical protection in combat, as well as weaken and harm enemies.
-EoF-
-RoK-
-TSO-
-PvP Server only-
-DoV-
The first spell in each category is listed. See the detailed description for the full upgrade line.
Benefical

Wards

Heals

Cures

Debuff / Damage

Single Target Damage

AE Damage

Single Target Debuffs

AE Debuffs
Grandmaster Training Choices
[
edit
|
edit source
]
Tier 2 - Level 14
Tier 3 - Level 24
Tier 4 - Level 34
Tier 5 - Level 44
Tier 6 - Level 54
Tier 7 - Level 64
Tier 8 - Level 75
Tier 9 - Level 85
Tier 10 - Level 95
Tier 11 - Level 105
Tier 12 - Level 115
Trending pages
All items (4)
Community content is available under
CC-BY-SA
unless otherwise noted.