Class Information for Inquisitor
Type:
Cleric (Priest)
City:
All Cities
Primary Stat:
Wisdom
Armor:
Plate Armor
Weapons:
Hammers, Staffs, Great Hammers, Symbols
Shields:
Bucklers, Symbols
Expert Spells:
Spells (Rare Gem)

Links to All Relevant Categories for: Priest > Cleric > Inquisitor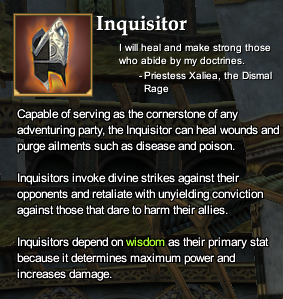 The Inquisitor fulfills a militant support role by providing restorative and protective benefits to their allies. The Inquisitor is able to mend wounds and purge ailments of all sorts, while striking opponents with divine power.

Epic Weapon
Edit
Class Armor
Edit
-RoK-
-TSO-
-SF-
-DoV-
Spells By Category
Edit
The first spell in each category is listed. See the detailed description for the full upgrade line.
Reactive Healing Buffs

Direct Heals

Resurrections

Cure

Attacks Debuffs Reverse Reactives

Damage and Stun Enemy After They Successfully Use a Combat Art or Spell: Repentance (18)

Enemy is Damaged After They Successfully Melee Attack: Vengeance (29)
Damage and Knock Down Enemies After they Cast a Beneficial Spell: Heresy (52)

Crowd Control

Defensive Buffs Offensive Buffs General Buffs Travel Misc
Spells by Tier and Level
Edit
Grandmaster Training Choices
Edit
Tier 2 - Level 14
Tier 3 - Level 24
Tier 4 - Level 34
Tier 5 - Level 44
Tier 6 - Level 54
Tier 7 - Level 64
Tier 8 - Level 75
Tier 9 - Level 85
Tier 10 - Level 95
Tier 11 - Level 105
Tier 12 - Level 115
All items (4)
Community content is available under
CC-BY-SA
unless otherwise noted.