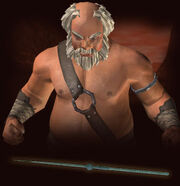 other resources
none applicable
Giants are planar beings, originally from one or another of the Elemental Planes, and they are often very closely associated with the element of their origin.
There are many different kinds of Giants:
Earth Giants (the most common type)
Sand Giants
Fire Giants
Frost Giants
Storm Giants
Ettins

While technically a different species, they can easily be considered a type of Giant, and count as them for the Lore and Legend quest. 

For the Lore & Legend quest for this race, see Lore and Legend: Giant.

Trending pages
All items (197)