Class Information for Fury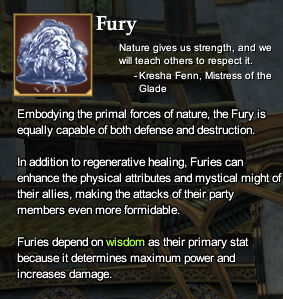 Those who seek to harness the feral and destructive forces of nature will find the Fury to be a suitable profession. Although the Fury conjures his power from nature's ferocity and is a druid of predation and vengeance, he can play a vital support role in the party by providing magical healing and protection. The Fury can enhance his allies physical attributes and abilities in combat, and bring down destructive forces upon his enemies.

Epic Weapon
[
]
Class Armor
[
]
Kingdom of the Sky
[
]
Echoes of Faydwer
[
]
Rise of Kunark
[
]
The Shadow Odyssey
[
]
Sentinel's Fate
[
]
Destiny of Velious
[
]
Chains of Eternity
[
]
Spells By Category
[
]
The first spell in each category is listed. See the detailed description for the full upgrade line.
Healing & Damage

Direct Heals

Regenerative Heals

Damage

Buffs & Debuffs

Buffs

Debuffs & Crowd Control

Utility & Cures

Resurrection

Travel

Misc

Cure
Spells by Tier and Level
[
]
Grandmaster Training Choices
[
]
Tier 2 - Level 14
Tier 3 - Level 24
Tier 4 - Level 34
Tier 5 - Level 44
Tier 6 - Level 54
Tier 7 - Level 64
Tier 8 - Level 75
Tier 9 - Level 85

Starnova V

Nature's Elixir VIII

Tier 10 - Level 95
Tier 11 - Level 105
Tier 12 - Level 115

Starnova VI

Nature's Elixir IX

Armor of Nature VIII

Death Swarm IX
Trending pages
All items (3)