There are two basic types of Familiars in EQ2. The first are available as either a "fun spell" that simply displays a visible pet, or as a regular spell providing a buff (Sorcerors). The second type of Familiars are spells providing a buff that are available to anyone, and can be controlled using the Pet Options window to set their name and whether or not they're visible.
Sorceror Familiars
[
]
Warlock Familiars
[
]
Animated Tome: Summon Animated Tome (level 10, Increases Damage Spell Crit Chance of caster by 2.3%)
Drake: Summon Drake (level 10, Decrease Reuse Speed of caster by 2.0%)
Gargoyle: Summon Gargoyle (level 10, Decrease Hate Gain of caster by 4.0%)
Warlock Fun Spell Familiars
[
]
Wizard Familiars
[
]
Wizard Fun Spell Familiars
[
]
Captured Familiars
[
]
Experts in the mysterious menagerie have discovered a subspecies of creatures that have been found to increase the master's ability to channel greater power.
Familiars may be purchased from in-game vendors or the Marketplace, and sometimes familiars are dropped as loot (Familiar Cage) from slain monsters.
You can access the Familiar window via a tab in your character UI. You may only summon one Familiar at a time, but you may use any Familiar you own as an appearance Familiar.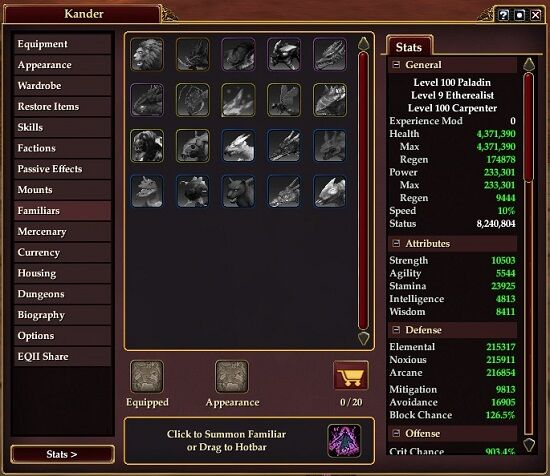 Familiar Vendors
[
]
Marketplace
[
]
The Marketplace offers a Gilded Familiar Cage either as a single Caged Familiar, or in packs of 3 or 7. All reward random Familiars, with each cage having the chance for a single familiar that may be Common, Uncommon, Rare, or Ultra-Rare. The cages are tradeable, but once opened, the Familiar is not, though Familiars can (usually) be sold to a vendor for status.
Season 1
[
]
Season 2
[
]
Season 2 added a Premium Gilded Familiar Crate to the Marketplace. The Premiere Crate offered 15 Gilded Familiar Cage - Season 2, 1 Platinum Familiar Cage - Season 2, and 1 Mithril Familiar Cage - Season 2. The Gilded Familiar Cages for Season 2 were also purchasable in 1, 3 and 7 packs.
Season 2 Gilded Familiar Cage
Season 2 Platinum Familiar Cage (all Fabled):
Season 2 Mithril Familiar Cage (all Ethereal):
Familiars as Quest Rewards
[
]
Dropped Familiars
[
]
Other Familiars
[
]
[The source for these is unknown]
Credits
[
]
Trending pages
All items (1)