There are two basic types of Familiars in EQ2. The first are available as either a "fun spell" that simply displays a visible pet, or as a regular spell providing a buff (Sorcerors). The second type of Familiars are spells providing a buff that are available to anyone, and can be controlled using the Pet Options window to set their name and whether or not they're visible.
Sorceror Familiars
Edit
Warlock Familiars
Edit
Animated Tome: Summon Animated Tome (level 10, Increases Damage Spell Crit Chance of caster by 2.3%)
Drake: Summon Drake (level 10, Decrease Reuse Speed of caster by 2.0%)
Gargoyle: Summon Gargoyle (level 10, Decrease Hate Gain of caster by 4.0%)
Warlock Fun Spell Familiars
Edit
Wizard Familiars
Edit
Wizard Fun Spell Familiars
Edit
Captured Familiars
Edit
Experts in the mysterious menagerie have discovered a subspecies of creatures that have been found to increase the master's ability to channel greater power.
Familiars may be purchased from in-game vendors or the Marketplace, and sometimes familiars are dropped as loot (Familiar Cage) from slain monsters.
You can access the Familiar window via a tab in your character UI. You may only summon one Familiar at a time, but you may use any Familiar you own as an appearance Familiar.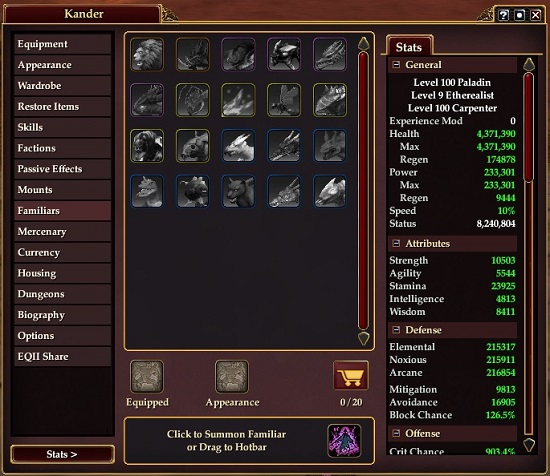 Familiar Vendors
Edit
Marketplace
Edit
The Marketplace offers a Gilded Familiar Cage either as a single Caged Familiar, or in packs of 3 or 7. All reward random Familiars, with each cage having the chance for a single familiar that may be Common, Uncommon, Rare, or Ultra-Rare. The cages are tradeable, but once opened, the Familiar is not, though Familiars can (usually) be sold to a vendor for status.
Season 2 added a Premium Gilded Familiar Crate to the Marketplace. The Premiere Crate offered 15 Gilded Familiar Cage - Season 2, 1 Platinum Familiar Cage - Season 2, and 1 Mithril Familiar Cage - Season 2. The Gilded Familiar Cages for Season 2 were also purchasable in 1, 3 and 7 packs.
Season 2 Gilded Familiar Cage
Season 2 Platinum Familiar Cage (all Fabled):
Season 2 Mithril Familiar Cage (all Ethereal):
Familiars as Quest Rewards
Edit
Dropped Familiars
Edit
Other Familiars
Edit
[The source for these is unknown]
All items (1)
Community content is available under
CC-BY-SA
unless otherwise noted.