Class Information for Defiler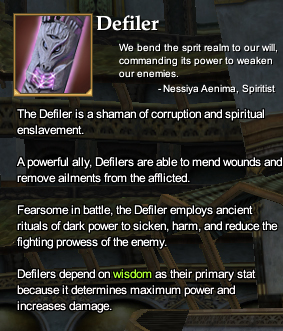 Those who crave power through the corruption and enslavement of the spirit world will find the Defiler class to be an ideal profession. The Defiler best serves as a first line of defense for the party, being able to heal wounds and remove ailments that afflict allies. The Defiler is also able to augment his allies' attributes or enhance their abilities in combat. In addition, the Defiler can weaken and harm enemies with magical attacks.
Epic Weapon
Class Armor
Kingdom of the Sky
Echoes of Faydwer
Rise of Kunark
The Shadow Odyssey
Sentinel's Fate
Destiny of Velious
Spells By Category
The first spell in each category is listed. See the detailed description for the full upgrade line.
Buffs & Debuffs

Buffs

Debuffs
Spells by Tier and Level
Grandmaster Training Choices
Tier 2 - Level 14
Tier 3 - Level 24
Tier 4 - Level 34
Tier 5 - Level 44
Tier 6 - Level 54
Tier 7 - Level 64
Tier 8 - Level 75
Tier 9 - Level 85
Tier 10 - Level 95
Tier 11 - Level 105
Tier 12 - Level 115
Achievements
All items (4)
Community content is available under
CC-BY-SA
unless otherwise noted.