Class Information for Conjuror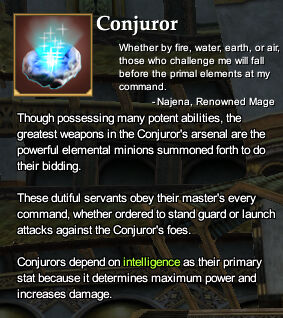 The Conjuror suits those who wish to summon powerful minions to perform their bidding in combat. The Conjuror's minion can be a creature native to Norrath or a manifestation of an elemental force. The Conjuror works best behind the frontlines of combat, directing his minion and wielding arcane elemental spells. These spells can strike down opponents or weaken their abilities.
Conjurors have a variety of combat pets they can summon, depending on level. The appearance of these pets differs between types (earth/tank pet, air/scout pet, fire/mage pet, water/hydromancer pet), and also by the level of the pet-summoning spell, and by the quality of the spell (Apprentice, Journeyman, Adept, Expert, Master, Grandmaster, Ancient). The Conjuror can control the pet's appearance to some degree by right-clicking on a summoned pet and selecting Change Appearance.
The first spell in each category is listed. See the detailed description for the full upgrade line.
Damage

Damage

Debuff

Root(15% break on damage), then snare(5% break): Quicksand (5)

Utility

Self Buff

Group Buffs

Single Target Buff:

Misc (Summoned items / dispels / unknown classification)
Grandmaster Training Choices
[
edit
|
edit source
]
Tier 2 - Level 14
Tier 3 - Level 24
Tier 4 - Level 34
Tier 5 - Level 44
Tier 6 - Level 54
Tier 7 - Level 64
Tier 8 - Level 75
Tier 9 - Level 85
Tier 10 - Level 95
Tier 11 - Level 105
Tier 12 - Level 115
Trending pages
All items (5)
Community content is available under
CC-BY-SA
unless otherwise noted.