Class Information for Coercer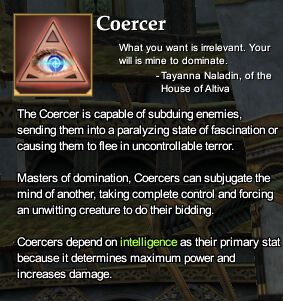 From the EverQuest II manual: Those who seek to dominate their foes, subjugating an enemy's will to their own, will find the Coercer to their liking. The Coercer serves a party best behind the front lines. They can subdue multiple opponents, send enemies fleeing in induced unbridled terror, and even seize control of minds. A Coercer can also mentally augment their allies, improving their abilities in combat. The Coercer wears cloth armor and can use staves, wands, and daggers as weapons.
Epic Weapon
[
]
Class Armor
[
]
-EoF-
-RoK-
-TSO-
Enchanter series
Coercer
-PvP Server only-
-SF-
-DoV-
See also
[
]
Spells By Category
[
]
The first spell in each category is listed. See the detailed description for the full upgrade line.
Damage

Single Target Damage

Encounter Damage

AoE Damage

Single Target DoTs

Encounter DoTs

Single target Reactives

Procs

Encounter Reactives

Debuffs

Swarm Pets

Control and Power

Crowd Control

Pet

Power

Hate Control

Dispel

Utility

Group Buffs

Single Target Buffs

Cure

Misc
Spells by Tier and Level
[
]
Grandmaster Training Choices
[
]
Tier 2 - Level 14
Tier 3 - Level 24
Tier 4 - Level 34
Tier 5 - Level 44
Tier 6 - Level 54
Tier 7 - Level 64
Tier 8 - Level 75
Tier 9 - Level 85
Tier 10 - Level 95
Tier 11 - Level 105
Tier 12 - Level 115

Hemorrhage XI

Brainshock X

Silence VIII

Charm X

Hemorrhage XII

Brainshock XI

Silence IX

Charm XI
Trending pages
All items (7)