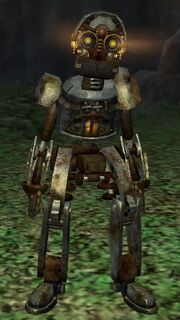 other resources
none applicable
The Clockworks were once the servants of the Gnomes of Ak'Anon but, after the gnomes fled their under-mountain city during the Shattering, the now-masterless clockworks found a way to maintain themselves using a magical power source and declared their independance. Now self-ruling, they have renamed their city Klak'Anon and defend it against all others, especially their former masters. 
Trending pages
All items (166)
Community content is available under
CC-BY-SA
unless otherwise noted.