For Monster/NPC races, see Category:Race.
This category is only for the races that are available to players when making a character. Some character races can only be created in starting cities of matching alignment:
Race has little bearing upon what your character is capable of, and gender has no effect at all.
Each race has certain strengths and weaknesses in their starting attributes, but these strengths and weaknesses will be unimportant by the time you progress to the mid-levels.
Each race gets certain innate abilities, and certain racial traits to choose from.
Each race can choose any class that is available. Your alignment will restrict which classes are available to you (and your race may dictate your aligment). See: Race comparison
A Race/Class - Attribute/Starting-City/Alignment - Comparison Chart is available here: Race/Class Comparison
For an introduction to character races, see the User Guide on Character Creation.
Race Portraits
Please note that the portrait below does not show the Aerakyn in the neutral options. Like the Freeblood, it must be unlocked via the Marketplace.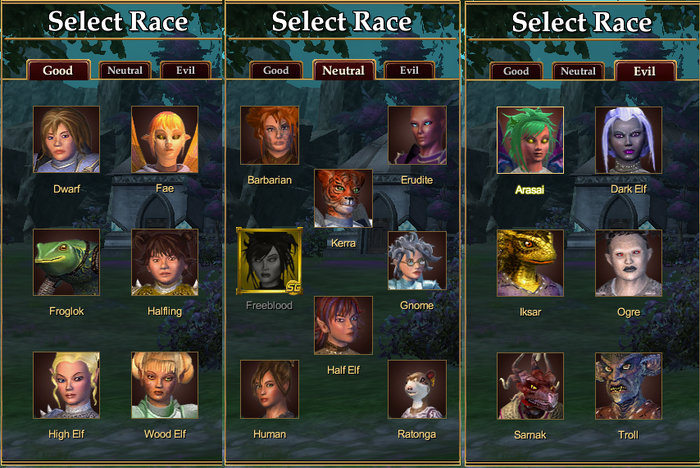 All items (27)
A
B
C
D
E
F
G
H
I
K
O
R
S
T
W