Class Information for Brigand
Type:
Rogue (Scout)
City:
Freeport,Neriak,Gorowyn
Primary Stat:
Agility
Armor:
Chain Armor
Weapons:
Swords, Axes, Spears, Rapiers, Daggers, Bows, Thrown; may dual-wield; may use poisons
Shields:
Bucklers, Round Shields
Expert Spells:
Combat Arts (Rare Loam)

Links to All Relevant Categories for: Scout > Rogue > Brigand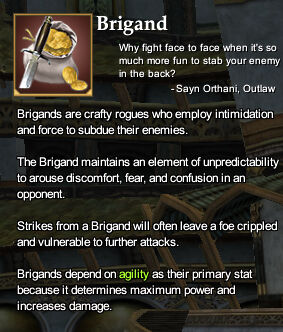 Those who enjoy a tough and unpredictable scrapper that works the dark corners of the world for gain through intimidation will find the Brigand to their liking. He serves his group best as an unseen element in the chaos of battle, positioning himself just behind the frontlines and dealing powerful strikes of opportunity against the enemy.
Epic Weapon
[
]
Deity Suggestions
[
]
Rallos Zek - slashing damage proc cloak
Anashti Sul - poison damage proc cloak
Class Hats
[
]
Class Armor
[
]
-EoF-
-RoK-
-TSO-
Rogue shard armor series
Brigand
-PvP Server Only-
Combat Arts By Category
[
]
The first spell in each category is listed. See the detailed description for the full upgrade line.
Attacks

Attacks from Front or Side

Attacks from Back or Side

Attacks from Back Only

Attacks From Stealth

Attacks hitting multiple enemies

Attacks with thrown weapons

Debuffs

Hate Control

Single Target Buffs

Group Buffs

Self Buffs

Short Duration Self Buffs

Fun

Misc
Combat Arts by Tier and Level
[
]
Grandmaster Training Choices
[
]
Tier 2 - Level 14
Tier 3 - Level 24
Tier 4 - Level 34
Tier 5 - Level 44
Tier 6 - Level 54
Tier 7 - Level 64
Tier 8 - Level 75
Tier 9 - Level 85

Gouge VI

Murderous Rake VI

Shank V

Stunning Blow V

Tier 10 - Level 95
Tier 11 - Level 105
Tier 12 - Level 115

Gouge VII

Murderous Rake VII

Shank VI

Stunning Blow VI
Achievements
[
]
Trending pages
All items (2)