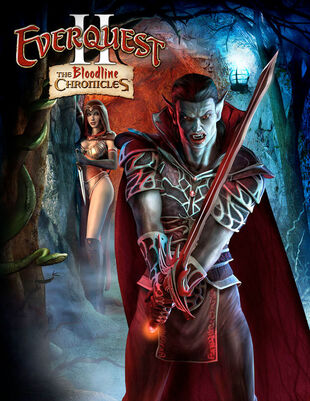 Deep below Soul Eater Falls in Nektulos Forest, a hidden lair of vampires has been discovered! The vampire-routing orders of The Hand of Marr and The Brethren of Night have called upon any able-bodied adventurers to assist them in their independent goals of discovering what secrets lie within.
Introduced March 21, 2005, The Bloodline Chronicles was the first Adventure Pack episode for EverQuest II.
Overview
[
]
Starting the Adventure
[
]
Interact with the trapdoor leading to the D'Morte Burial Chambers in Nektulos Forest at ( 678, 2, -617 ) Copy/waypoint 678, 2, -617 to receive a D'Morte insignia band. Examining it will offer the introductory quest, D'Morte Burial Chambers. While this quest and it's followup are technically optional, their completion isn't required to access the other zones in the adventure pack, they should nonetheless be completed in order to experience the complete lore of the adventure.
Zones
[
]
The Underrot Caverns
[
]
Dire Hollow
[
]
D'Morte Burial Chambers
[
]
The Tombs of Night
[
]
The Crypt of T'haen
[
]
Quests
[
]
All Bloodline Chronicles Links
[
]
Trending pages
All items (30)