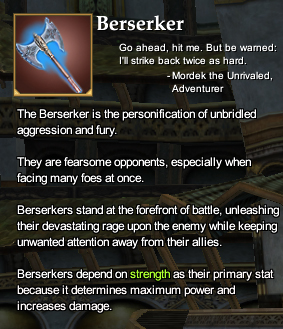 Class Information for Berserker
Type:
Warrior (Fighter)
City:
All Cities
Primary Stat:
Strength
Armor:
Plate Armor
Weapons:
Swords, Axes, Hammers, Spears, Staffs, Rapiers, Daggers, Great Swords, Great Axes, Great Hammers, Great Spears, Bows, Thrown Weapons; may dual wield
Shields:
Bucklers, Round Shields, Kite Shields, Tower Shields
Expert Spells:
Combat Arts (Rare Loam)
Those who seek to devastate their foes through an expertise in martial weaponry will find the Berserker to be an exciting profession. The Berserker's skills in melee combat consume the entirety of his role and abilities. The Berserker is the personification of unbridled rage and fury, making him a powerful combatant. The Berserker serves his party on the frontlines of battle where he can best vent his rage upon his enemies in melee combat. The Berserker shows neither mercy nor apprehension in combat.
Epic Weapon
Edit
Class Hat
Edit
Class Armor
Edit
Abilities by Category
Edit
The first ability in each spell line is included. See the detailed description for the full upgrade line.
Attacks

Single Target Attacks

Area of Effect Attacks

Encounter Attacks

Temporary ("Battle") Buffs

Taunts and Buffs

Taunts

Stances

Self Buffs

Group Buffs

Raid Buffs
Abilities by Tier and Level
Edit
Grandmaster Training Choices
Edit
Tier 2 - Level 14
Tier 3 - Level 24
Tier 4 - Level 34
Tier 5 - Level 44
Tier 6 - Level 54
Tier 7 - Level 64
Tier 8 - Level 75
Tier 9 - Level 85
Tier 10 - Level 95
Tier 11 - Level 105
Alternate Advancements
Edit
All items (7)