Class Information for Assassin
Type:
Predator (Scout)
City:
All Cities
Primary Stat:
Agility
Armor:
Chain Armor
Weapons:
Sword, Axe, Spear, Rapier, Dagger, Bow, Thrown; may dual-wield; may use poisons
Shields:
Bucklers, Round Shields
Expert Spells:
Combat Arts (Rare Loam)

Links to All Relevant Categories for: Scout > Predator > Assassin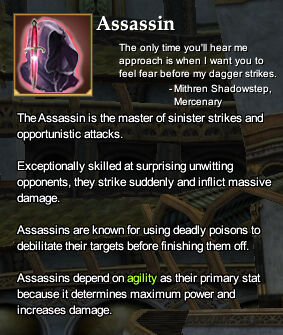 The Assassin profession is ideal for those who wish to master sinister strikes and hidden attacks. The Assassin serves his party best in the frontlines of combat. He surveys the battle for potential prey and attacks of opportunity, striking from the shadows to inflict massive damage.

Epic Weapon
[
]
Class Armor
[
]
Combat Arts By Category
[
]
The first spell (and level) of each type is listed. See the detailed description for the full upgrade line.
Ranged Attack CAs

Any Position

Flanking or Behind

Behind

Melee Attack CAs

Any Position

Flanking or Behind

From Stealth

Flanking or Behind from Stealth

Following Stealth CA
Combat Arts by Tier and Level
[
]
Grandmaster Training Choices
[
]
Tier 2 - Level 14
Tier 3 - Level 24
Tier 4 - Level 34
Tier 5 - Level 44
Tier 6 - Level 54
Tier 7 - Level 64
Tier 8 - Level 75
Tier 9 - Level 85

Jugular Slice VI

Death Mark VI

Paralyzing Strike V

Tier 10 - Level 95
Tier 11 - Level 105
Tier 12 - Level 115
Achievements
[
]
Trending pages
All items (4)