In-Game Examine Window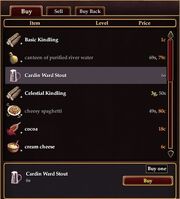 EverQuest II Item Information
What does this information mean?
This item is only available for purchase whilst on the quest: The Harrowing Hoard
EQ2i credits this article at Census for the info in this article.
the last update on Census for this item was:
Tue, 18 Jul 2017 14:50:20 +0000
Community content is available under
CC-BY-SA
unless otherwise noted.