m

Line 128:
Line 128:
 

#[[A Kobold Relic]] (33)

 

#[[A Kobold Relic]] (33)

 
 
−

===Quests starting here leading to Kaladim in [[Kaldim Timeline]]===

+

===Quests starting here leading to Kaladim===

 

'''{{NPC|Captain E.L. Irontoe}}'''

 

'''{{NPC|Captain E.L. Irontoe}}'''

 

#[[A Tale of Two Towers]]

 

#[[A Tale of Two Towers]]

 

#[[Dunfire Diamonds are a Dwarf's Best Friend]]

 

#[[Dunfire Diamonds are a Dwarf's Best Friend]]

 
+
 
+

see also: [[Kaladim Timeline]]

 
 
 

==Near Lesser Faydark==

 

==Near Lesser Faydark==
---
Revision as of 07:34, 14 July 2008
The following soloable quests take place in or around Butcherblock Mountains, and are aimed at characters of levels 20 to 35. The quests are designed so that you can start at three different locations: either the Greater Faydark Passage, the docks, or the sarnak camp. Each starting point will take you to the other locations after a few quests.
(recommended levels in parentheses)
Griffon Routes
One of the first things you may want to do is to enable the griffon flight routes. This will give you quick travel between the quest hubs. The quest is doable at level 20 and will greatly assist your questing here.
At the Docks
Making Friends with the Dwarves

Seeking the Kilnkors(21) - continues with Jonedorn Kilnkor at East Fort Irontoe
Trapper Coalbear - walking the road near griffin tower
For the Dogs (20)
A Mind Of My Own (20)
A Dim Light (20)
Digging in the Yard (20)
A Strange Mix (20)
At Gorowyn Research Camp
Researcher Bredik - offered only if you finish Scout Chillekla's quest line in Timorous Deep
Trail of Feathers (20)
Where Spirocs Dare (21)
Birds of a Feather (22)
Unusual Palate (21)
Thieving Runts (21)
Tier'Dal Timber (22)
Fletch Me More (26)
Fort Irontoe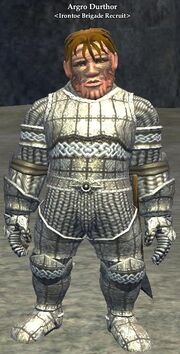 Jonedorn Kilnkor - in the office at East Fort Irontoe
Grot Leadarm / Garl Copperstroke / Trinny Sweetdough - starts in East Fort Irontoe
Ill Communication (24) - sends you to Garl
Searching for Sweetdough (25) - sends you to Trinny at Lesser Faydark Passage
Irontoe Brigade series
Quests starting here leading to Kaladim
see also: Kaladim Timeline
Near Lesser Faydark
Trinny Sweetdough - beside the griffin tower at Lesser Faydark Passage
Ape is Enough! (27)
Hamish Felderham - in the valley connecting Felderham's Folly to The Broken Fields
Razing an Army (25)
The Apprentice (27)
Trozusk's Challenge (31)
A New Challenger (33)
Eneek is No Snack! (32)
Eneek Needs a Snack! (33)
Other Quests
Collections
Deities - these timelines start in Butcherblock Mountains, or have steps that take place there.
See Also
Community content is available under
CC-BY-SA
unless otherwise noted.