| | |
| --- | --- |
| | This article refers to events, personae and activities only present in-game during the annual Bristlebane Day celebration, which comes to Norrath each year on and around April 1st. |
What does this information mean?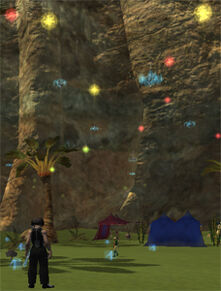 The aim of this game is to race the clock and collect as many baubles as you can by bouncing on the cubes around the Croc Hunter Camp. The higher up in the air the baubles are, the greater their point value.
1 Point: floating fish and green baubles
2 Points: red baubles
5 points: gold baubles
Tip: aim for the floating fish - they launch you even higher and cause you to accelerate, to making it easier reach the gold baubles, quickly.
Before you can start the game, you must dismount.
Hail Princess Evelynn Fadia
Step onto the Bristlebane Bounce Pad
After the timer counts down and the bells rings/the on-screen counter tell you to go, run around the crock camp
Run over the bounce-cubes along the ground and aim for the baubles up in the air
When the time runs out, return to the Princess to claim your prize
When you complete the race you can choose Fool's Gold Coin (event currency) or one of the prizes listed below, based on how many snacks you collect before the timer runs out.
The amount of the Fool's Gold depends on how successful you are, but All Access members get double event currency. Therefore, an All Access member who chooses 5 Fool's Gold Coins (enormous prize) will actually receive 10.
To see a preview of appearance-only items or house items before you choose a prize (while in-game), place your mouse over the item icon, hold down CTRL, and L click.
Small Prize
Edit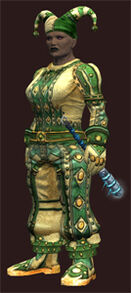 Fewer than 50 points:
Big Prize
Edit
50-69 Baubles:
Huge Prize
Edit
70-84 points:
Enormous Prize
Edit
85 or more points:
Achievement and Title
Edit
After you complete the race 5 times, you are granted the following title:
Doing so complete the You Jelly? achievement.
Community content is available under
CC-BY-SA
unless otherwise noted.