What does this information mean?
This is part 5 of 5 of the Bristlebane Timeline.
Description
Edit
Hoppert Barbinsteel feels that both Garby and Tobel have lost sight of what it truly means to be a follower of Bristlebane. He has asked me if I would like to help him remind both of them that having fun is the most important thing to a believer in Fizzlethorpe Bristlebane, not seeking revenge on those who have pranked you. To accomplish this feat, Hoppert has charged me with discovering a creature said to be Bristlebane's most beloved pet, the mysterious bovoch.
Note: You may begin this quest at level 69.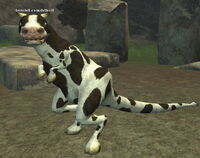 Speak with Hoppert Barbinsteel at the Bobick Village Docks ( 39, 2, 45 ) /waypoint 39, 1.5, 45
You must find and enter Bristlebane's Basin (aka Shattered Vale) in Antonica at ( -2285, -14, -57 ) 

/waypoint -2285, -14, -57

.

You have to be at least level 65 to enter Bristlebane's Basin.
This is a solo quest. If you are grouped, your companions will not zone in with you!
Use the Wizard Spire to travel to Antonica, much closer to the Basin than using the globe.

Speak with Iffatia Honeymeadow.
Stop the exotic game hunters from killing the Bristlebane's Beloved and slay all 4 of them.
Return to Iffatia Honeymeadow.
After some conversation with Iffatia Honeymeadow she gives you Bristlebane grain.
Feed her friend and you'll get the Beloved egg.
Travel back to Hoppert Barbinsteel and give him the Beloved egg.
Run to Garby Gingham Gigglegibber and to Tobel Patadash.
Return to Hoppert Barbinsteel and get your rewards (return to your body ability is in your knowledge book).
At least

27g

 

54s

Completing this quest gives +10000 faction with Bristlebane
Community content is available under
CC-BY-SA
unless otherwise noted.