The Item, Location, Quest, Mob or NPC referred to by this page has been removed from EverQuest II.
This article is being retained for historical reasons
This quest was replaced by Bouquet of Trust quest that starts in New Halas
What does this information mean?
Steps
[
]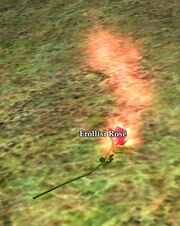 Speak to Priest Aaronolis Swornlove nearby.
Collect 8 fresh-cut roses in the Enchanted Lands and Bestow the roses on any other player in the game.

The roses are a random ground spawn. Each harvest yields two fresh-cut roses.
To bestow the roses to other players "use" the roses from your inventory, trading them to the other player doesn't update the quest

Return to Priest Aaronolis Swornlove for your reward.
Rewards
[
]
| | |
| --- | --- |
| | This article refers to events, personae, items and activities only present in-game during the annual Erollisi Day festivities, which come to Norrath each year for a short time roughly around February 14th. |