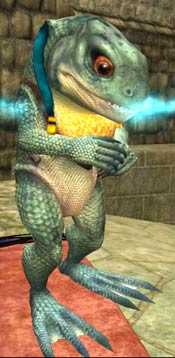 .
What does this information mean?
He's not aggro to start with. But if you attack him he will call the massive golem next to him for help. This is something you don't want.
To avoid this you must place the golem parts that are on the pedestal in the room on the shiny circle next to Boss Riggledub. Start with the legs, then the chest and finally the head. Once you're done an not-so-massive golem will be formed and attack the massive golem. You can then proceed on killing Boss Riggledub, he's easier than it's level might let think.
Avoid any blue AoEs as you might aggro the massive golem which will wipe you promptly.
Community content is available under
CC-BY-SA
unless otherwise noted.