For other articles with related titles, see Bloodmane Clothwork Steed.


You may upload a JPG or PNG image of the in-game examine window.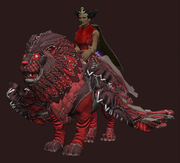 EverQuest II Item Information
Type: Mount
Subtype: Flying Mount

Bloodmane Clothwork Steed

Only an 85th and higher seasoned adventurer or tradeskiller will be able to summon this powerful creature.
 
ORNATE,  HEIRLOOM,  NO-VALUE
Summon Bloodmane Clothwork Steed
Charges
Unlimited
Casting
1 second
Duration
Until Cancelled
Recast
0.0 seconds
Artisans: Alchemist, Armorer, Carpenter, Jeweler, Provisioner, Sage, Tailor, Weaponsmith, Woodworker
Level
85 (Tier 9)
Effects:

Applies Summon Bloodmane Clothwork Steed when Activated.

Increases Focus, Disruption, Ministration, Subjugation, Ordination, Slashing, Piercing, Crushing, Aggression and Ranged of caster by 5.0
Summons a mount to ride

Increases your ground speed by 130%
Increases your air speed by 150%




Obtain: Purchased from A Heroes' Festival merchant for 50 Mischeva's Tribute
\aITEM 1107226596 1653682315:Bloodmane Clothwork Steed\/a \aITEM 1107226596 1653682315:Bloodmane Clothwork Steed\/a
What does this information mean?
This is a patchwork version of the Pridewing mount, but in Patchwork form, like all of the foes one can battle during the Heroes' Festival.
EQ2i credits this article at Census for the info in this article.
the last update on Census for this item was:
Tue, 24 Oct 2017 20:55:12 +0000
Community content is available under
CC-BY-SA
unless otherwise noted.