In-Game Examine Window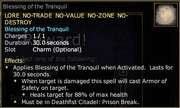 Blessing of the Tranquil

LORE,  NO-TRADE,  NO-VALUE,  NO-DESTROY,  NO-ZONE
Blessing of the Tranquil
 
Charges
1
Slot
Charm (Optional)
 
Effects:


Applies Blessing of the Tranquil when Activated. Lasts for 30.0 seconds.

When target is damaged this spell will cast Armor of Safety on target.

Heals target for 88% of max health

Must be in Deathfist Citadel: Prison Break.
Obtain: Quest: Peaceful Prison Break
What does this information mean?
Community content is available under
CC-BY-SA
unless otherwise noted.