You may upload a JPG or PNG image of the in-game examine window.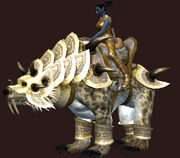 EverQuest II Item Information
Type: Mount
Subtype: Ground Mount

Bjorn

Summons Bjorn, Elder of the Western Wastes.
 
FABLED
ORNATE,  LORE,  NO-TRADE
Summon Bjorn
Charges
Unlimited
Casting
1 second
Duration
Until Cancelled
Recast
0.0 seconds
Effects:

Applies Summon Bjorn when Activated.

Increases Crit Bonus of caster by 1.0%.
Increases Crit Chance of caster by 3.0.
Increases Max Power of caster by 200.0.
Summons a mount to ride

Increases your ground speed by 130%




Obtain: From the Exquisite Chest of Gynok Moltor in Tomb of the Mad Crusader.
\aITEM -329826907 -768827230:Bjorn\/a \aITEM -329826907 -768827230:Bjorn\/a
What does this information mean?
EQ2i credits this article at Census for the info in this article.
the last update on Census for this item was:
Thu, 17 Dec 2020 15:44:33 +0000
Community content is available under
CC-BY-SA
unless otherwise noted.