What does this information mean?
At least

31g

 

73s

 

78c

34g

 

73s

 

85c

(92 Necro/86 Jeweler)

1p

 

35g

(100)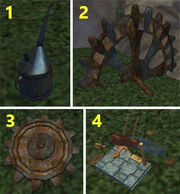 When you gather materials in Steamfont, your map should highlight the region to look in, but the scrap piles can still be tricky to spot.
The easiest way to find them is to look in the area between Gnomeland Security Headquarters and the zone-in point for Loping Plains.
Most will be close to the edges of the natural stone walls, along the path leading to Loping Plains.
All have the generic name "scrap heap", but there are four distinct type and each yields different items you need as you gather materials from them. They are trackable with "Track Harvests"
Before you go to gather the items, see the image here and read the descriptions for each scrap heap type below, to save you time and frustration.
You may need to get close to some of these (especially the junk piles) for them to render on your screen.
Oil cans - yield the oil
Upright gears - yield the rusted water pumps
Flat gears - yield the gnomish bolts
Junk piles - yield a used power source
Community content is available under
CC-BY-SA
unless otherwise noted.