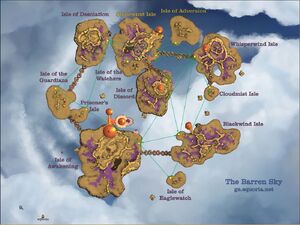 This zone was revamped in 2010 and is now a suitable place to quest in the mid-60's. It transitions smoothly to the Bonemire Timeline around level 66.
Isle of Desolation
Edit
Hooluk Series - begins with Elder Cloudsight
Cloudpuff Series - begins with Constance Cloudpuff
Whisperwind Isle
Edit
Miscellaneous
Strifewind Isle
Edit
Isle of Aversion
Edit
Isle of Discord
Edit
[74]Stranded!
Cloud Mount series
Edit
Claymore series
Edit
Part of Claymore Timeline
[66] Expedition to the Barren Sky - requires Volant language
[67] Egg Hunt in the Nest
City Task series
Edit
---
Community content is available under
CC-BY-SA
unless otherwise noted.