For other articles with related titles, see Ayonic Axe.


You may upload a JPG or PNG image of the in-game examine window.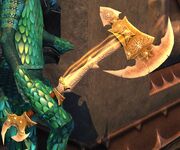 Ayonic Axe


MYTHICAL
LORE,  NO-TRADE,  NO-VALUE
 

100 Primary Attributes

100 sta



26.3 DPS
6.3% Crit Chance
4.4% Crit Bonus
6.5%  Potency
1.6%  Strikethrough
3% Reuse Speed

Ayonic Hymn
Maestro's Concerto
Ayonic Inspiration
 
Axe
Main Hand Piercing
Damage
113 - 642                  (125.89 Rating)
Delay
6.0 seconds
Level
80 (Tier 9)
Troubador
 
Effects:


When Equipped:

On any combat or spell hit this spell may cast Ayonic Hymn on target of attack. Lasts for 12.0 seconds. Triggers about 2.4 times per minute.

Inflicts 607 - 910 mental damage on target
Increases Crit Chance of caster by 15.0
Cannot be modified except by direct means

Cannot be modified except by direct means

When Equipped:

Applies the effects of Perfection of the Maestro II to all raid members.

When Equipped:

Aria of Magic V will improve hostile spell damage by 10%
Obtain: Reward from the quest "Son'Nia's Song".
\aITEM -140930154 426931929:Ayonic Axe\/a \aITEM -140930154 426931929:Ayonic Axe\/a
What does this information mean?
This item is a reward from one of the Epic Quests introduced with Game Update 42.
See the item's Obtain field for the particular quest that rewards this item.
EQ2i credits this article at Census for the info in this article.
the last update on Census for this item was:
Wed, 21 Nov 2018 17:11:02 +0000
Community content is available under
CC-BY-SA
unless otherwise noted.