EverQuest II Named Monster Information
Zone (Patch)
Rivervale (LU38)
Race
Avatar
Level
88▲▲▲ Tier 9 Epic x4
Location
Nightblood Area ( -813, 6, -179 ) 

/waypoint -812.83, 5.96, -179.31

 
Reported Drops
Melee Attacks
Crushing
AA Exp
unknown
Status Points
unknown
What does this information mean?
The Avatar of Mischief also appears in game as The Grand Prankster during the celebrations of Bristlebane Day.
If you are a follower of Bristlebane, when the avatar is up, you may approach it and receive a 5 hour buff called Blessing of Bristlebane.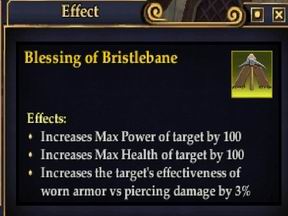 Community content is available under
CC-BY-SA
unless otherwise noted.