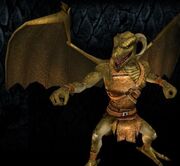 .
What does this information mean?
Pops when all other nameds are down. Osseous Golem a reanimated eradinaut in the room becomes active when you get his HP down enough. Golem has lots and lots of HP so it's best to not bother with it and focus dps on the named mob, once he dies, golem dies too. Golem drains power. Cure disease spells this guy casts as they do massive damage! Overall this is almost ye olde tank and spank encounter.
Killing this guy you earn an achievement which is worth 10 points: Arch-Necranaut Yolth's Demise
Community content is available under
CC-BY-SA
unless otherwise noted.