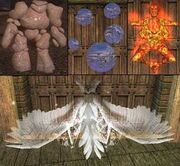 .
What does this information mean?
You mez the named to start. Have ALL group members move down to the floor with the pillars. Kill all the orbs on the pedestals. Once those are down have the MT wake the named and tank it against the back wall with the mob flipped so its back is to the rest of the group.
Have someone watch for him summoning more orbs. Once he does, disengage from him (attack off), mez him and have the DPS go kill the orbs again. Rinse and repeat.
Casters should stand at a medium range within group healing radius (the AE seems to hurt slightly more if your up close). Be fast on the AE heals when his AE hits, since he will sometimes do two within 10s of each other. If his orbs are up he will usually kill you unless your group is super-uber -- since he seems to AE's twice as often (for what looks to be more damage) and the orbs also ward him.
Note: If you watch what he says you can see what he does when the orbs are up and when they are down. If they are down then instead of unleashing a fierce AE he will use that attack-cycle to summon more orbs. This by itself makes him slightly easier -- not to mention the fact you arent having to deal with wards if the orbs are dead.
Killed him several times. The only resets i've encountered are if the group stand up on the steps or his most hated target is out of his immediate target range when he wakes up. He can be easily taken with one healer.
Community content is available under
CC-BY-SA
unless otherwise noted.