WARNING: Immediately upon examining this item, it will be consumed and activated. This examine window was obtained via the /claim window.
In-Game Examine Window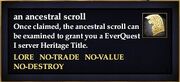 EverQuest II Item Information
\aITEM 996987682 471862478:an ancestral scroll\/a \aITEM 996987682 471862478:an ancestral scroll\/a
What does this information mean?

If you started EQ2 at/near launch while having an EQ1 account on your Station Account, this was one of the /claim rewards (the other was a free wall painting).
This item will let you pick a EQ1 Heritage Suffix Title, from the names of the EQ1 servers. Below is the full list offered:

Titles are granted in the "of <servername> format
Al'Kabor
Antonius Bayle
Ayonae Ro
Bertoxxulous
Brell Serilis
Bristlebane
Castle Lightwolf
Cazic-Thule
Diren Hold
Drinal
Druzzil Ro
E`Ci
Erollisi Marr
Fennin Ro
Ferran's Hope
Firiona Vie
Hodstock
Innoruuk
Kael Drakkal
Kane Bayle
Karana
Lanys T`vyl
Luclin
Maelin Starpyre
Marr's Fist
Mithaniel Marr
Morden Rasp
Morell-Thule
The Nameless
The Nest
Povar
Prexus
Proudpine Outpost
Quellious
Rallos Zek
The Rathe
Rodcet Nife
Sarym
Sebilis
The Seventh Hammer
Dark Solace
Solusek Ro
Stone Watchers
Stormhammer
Stromm
Sullon Zek
Tallon Zek
Tarew Marr
Terris-Thule
Toluxe Paells
Torvonnilous
The Tribunal
Tunare
Vallon Zek
Vazaelle
Veeshan
Venril Sathir
Xegony
Xev
Zebuxoruk
EQ2i credits this article at Census for the info in this article.
the last update on Census for this item was:
Tue, 18 Jul 2017 14:49:17 +0000
Community content is available under
CC-BY-SA
unless otherwise noted.