In-Game Examine Window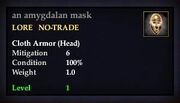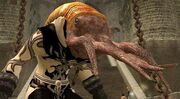 An amygdalan mask
This is a Halloween mask. You may wear this mask to look like a cat.

LORE,  NO-TRADE,  NO-VALUE
 
Cloth Armor (Head)
Mitigation
7
Level
1 (Tier 1)
 
Obtain: Reward from the quest, Ghost Hunting.
What does this information mean?
This is one of the masks you can choose when you catch the enough ghosts for a big prize.
Current versions of the Nights of the Dead masks do not have any stats beyond 7 Mitigation.
About older versions:
The old version of this mask was from the (now retired) quest, Trick or Treat.
The old version had stats.
Community content is available under
CC-BY-SA
unless otherwise noted.