What does this information mean?
Requirements
Starting the Quest
Steps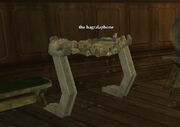 FYI: I did not have 4 instruments appear. After clicking on 2 I was rewarded and the quest was finished. Melvia never became aggro'd.
The instruments will respawn after a few minutes if you have trouble finding all four of them.
You will be rewarded the Ayonic Axe and The Wards of Kelkarn, a house item. You need to place The Wards of Kelkarn in your character's home, and play them to begin the mythical version of the epic.
Rewards
Credits
Community content is available under
CC-BY-SA
unless otherwise noted.