You may upload a JPG or PNG image of the in-game examine window.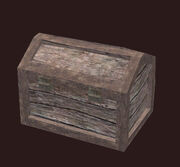 EverQuest II Item Information
What does this information mean?
You may upload a JPG or PNG image of the in-game examine window.
See the Guild Hall Amenities page for a list of all amenities.
Amenity Details
Edit
The Adornment Depot holds 500 stacks of white Adornments.
Each stack can hold 99,999 of that item.
The regular and large depots are identical in appearance; the large depots hold more items.
This amenity features a "Deposit All" button to make it easy to fill. Removal is based on permissions, but can be done in stacks of 200 by highlighting the stack and holding down the Shift key to open the Select Quantity window on the depot.
Permissions
Edit
Permissions can only be set by a guild leader.
The permission level determines who can use an amenity in the guild hall and how it can be used.
The designations are set both through:
The guild roster (press U) and assigned by guild member rank
The general guild hall settings
Permission Levels
Edit
Visitor - of the use permissions, this has the least access and is typically used for new guild recruits
Friend - this is typically used for all full guild members
Trustee - this is typically used guild officers
Any of the permissions above apply to non-members when the access is granted through the guild hall management (house) window. For example, the leader can add individuals from an allied guild to the any of the above levels to allow them to access the amenities in your hall.
This amenity has the following drop-down use permissions that can be set:
Deposit - sets limits on who can add items
Consumption/Crafting - sets limits on automatic use of items from the depot
Withdrawal - sets limits on who can remove items from the depot
Community content is available under
CC-BY-SA
unless otherwise noted.