For other articles with related titles, see Absolution.

In-Game Examine Window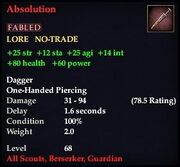 Absolution


FABLED
ATTUNEABLE,  LORE-EQUIP,  HEIRLOOM
 

33 Primary Attributes

33 Stamina


13 Combat Skills
1.4% Crit Chance
0.4% Crit Bonus
1.9%  Potency
3.1% Casting Speed
21 Ability Mod

 
Dagger
One-Handed Piercing
Damage
72 - 216                  (72.15 Rating)
Delay
4.0 seconds
Level
70 (Tier 8)
All Scouts, All Mages, Paladin, Shadowknight, Berserker, Guardian, Defiler, Mystic, Channeler
 
Obtain: From the Exquisite Chest of The Uncaged Alzid in The Laboratory of Lord Vyemm.
\aITEM -1742020413 -443964281:Absolution\/a \aITEM -1742020413 -443964281:Absolution\/a
What does this information mean?
EQ2i credits this article at Census for the info in this article.
the last update on Census for this item was:
Thu, 17 Dec 2020 15:38:56 +0000
Community content is available under
CC-BY-SA
unless otherwise noted.