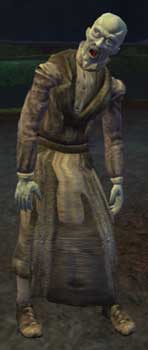 .
What does this information mean?
You may upload a JPG or PNG image of the in-game picture of this mob

The Patrons of Hate are straight up fight with one small twist - when they die the immediatly spawn in place a second mob called a Manifestation of Hate.
This manifestation is also a straight up fight it just has a fair amount of hit points. Not a bad fight overall - provided you are prepared for the immediate second spawn. Also, the Manifestations do not despawn and do not go to where the Patron was pulled from. Where the patron died is considered the manifestations spawn point and he will just hang around.
Community content is available under
CC-BY-SA
unless otherwise noted.