In-Game Examine Window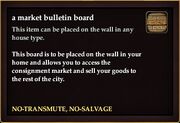 EverQuest II Item Information
Type: House Item

a market bulletin board

This item can be placed on the wall in any house type.

This board is to be placed on the wall in your home and allows you to access the consignment market and sell your goods to the rest of the city.
 

Obtain:

Reward from the quest "First Time Buyer".
Also sold by several merchants listed below.
\aITEM 297271877 2096316751:a market bulletin board\/a \aITEM 297271877 2096316751:a market bulletin board\/a
What does this information mean?
When placed in a home, this board can be used to put items up for sale on the Broker, but you can not buy things while inside your home.
In addition, it is used to place special furniture in your home in order to sell to those who visit it; doing so lists your address on the broker and buyers can avoid the broker fees. For more information see the Sales Display page.
There is at least one merchant in every city that sells Market Boards if you need a new one or buy more than one house. The NPCs are typically close to the starter housing in Freeport, Qeynos, Neriak, Kelethin, Gorowyn, and New Halas.
For example, you can buy it from Vhishall, the furniture merchant, in the City of Freeport, or from Minda Broadfeet in Qeynos Province District.
EQ2i credits this article at Census for the info in this article.
the last update on Census for this item was:
Tue, 17 Jul 2018 14:58:34 +0000
Community content is available under
CC-BY-SA
unless otherwise noted.