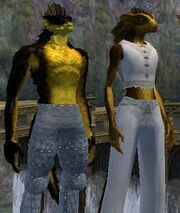 .
What does this information mean?
You may upload a JPG or PNG image of the in-game picture of this mob
There are two kinds of Sathirian gravelords. One can be found guarding hallways on the main floor of Sebilis. The other is part of a shared spawn setup in the room at ( -167, -22, 256 ) /waypoint -167, -22, 256.
Killing this monster gives -100 faction with Sathirian
Community content is available under
CC-BY-SA
unless otherwise noted.