You may upload a JPG or PNG image of the in-game examine window.
EverQuest II Item Information
What does this information mean?
You may upload a JPG or PNG image of the in-game examine window.
Book Text
A Mysterious Green Tome (House Item)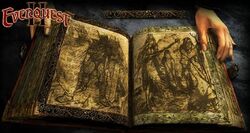 as translated from The Froak Language, which is required in order to read the Tome.

[Page 1]

BLANK

[Page 2]

Frontine's Frolicking Good Food.

[Page 3]

Frontine specializes in recipes for cooking with your offspring. No matter how young your spawn are, they can help you make tasty treats. (No recipes contain ingredients requiring Froglok offspring substitution at your own risk.)

[Page 4]

Frogurt and Berries

1 part cream

1 part sea foam

1 past berries

Stir vigorously to make sure that is it light and airy. Leave to sit over night, exposed to the ocean breeze. You should end up with something like a nice mud water taffy.

[Page 5]

Seaweed Crackers

1 part seaweed

1 part seasonings

Bake in an oven (or on a nice flat rock in the sun) until crispy.

[Page 6]

Scallop Lick

1 skewer

1 part scallop

1 part salt water

1 part seasonings

Roast over a medium fire until golden brown and the add seasonings. You will want to make sure that these are nice and salty licking good.

[Page 7]

Goliath Beetle Pie

1 part beetle carapace

1 part beetle meat

1 part dough

1 part Frogurt and Berries

These little beauties are naturally sweet from the fruits they eat. These is no need to sweeten them. Cover the inside of the carapace with the dough. Pour in the other ingredients and mix them together. Bake on medium low fire for a few hours. You will want to make sure that the meat is nice and tender.

[Page 8]

Tree Sap Covered Dragonfly

1 part Tree Sap

1 part Dragonfly meat

1 sharp stick

Take the sharp stick and skewer the Dragonfly meat. Roll the meat in the tree sap until covered. Heat the skewer until the tree sap starts

to harden. Let the skewer cool for a few minutes before enjoying.
Community content is available under
CC-BY-SA
unless otherwise noted.