What does this information mean?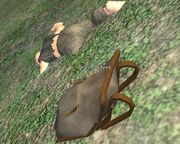 Obtain the dwarven backpack between Darkfall Gorge and Spireshadow Outpost around ( 

58, 196, -324

 ) 

/waypoint 58, 196, -324

Warning! Once the backpack is obtained, a soloable group of 4 Krukiel bugbears (2 Krulkiel gatherers, 1 Krulkiel scrapper and 1 Krulkiel berserker) will spawn and attack, but you can sprint and outrun them.
Trivia: If you pick up the backpack and then delete the quest, it remains in your backpack until you destroy it or complete the quest. If you delete the quest from your journal and then reaccept it, you will immediately automatically complete the 'obtain the backpack' step of the quest.

Speak with Opus Froth at the Butcherblock Dock ( 

695, 24, 603

 ) 

/waypoint 695, 24, 603

Return to Verung Kae'Rush
At least

1g

 

29s

 

17c

One of the following, based on Class:
Completing this quest gives +1000 faction with The Irontoe Brigade
Community content is available under
CC-BY-SA
unless otherwise noted.