The mobs listed below share spawn points. If you need more of one, kill the others to improve spawn chances.
a Darkflight hag, a Darkflight savage
What does this information mean?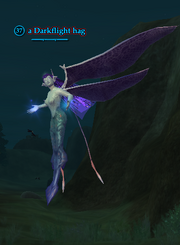 Darkflight hags were originally heroic, then downgraded to solo, and a decade later re-heroiced.
This mob has been identified as an excellent choice of charm pet for Coercers.


See the complete list, by tier and zone, at Coercer Pets.
Community content is available under
CC-BY-SA
unless otherwise noted.