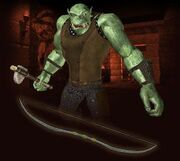 .
What does this information mean?
You may upload a JPG or PNG image of the in-game picture of this mob
Related quests
Edit
Technically speaking, there are three separate types of monsters called 'a Crushbone pawn'

One is found in Valley of the Great Swarm ( -375, 24, -56 ) 

/waypoint -375, 24, -56

- lvl 7-8, agro but not social.
One is found south of Orc Hill, in the camp and by the ramp leading down off the hill. ( 186, 61, -204 ) 

/waypoint 186, 61, -204

- lvl 8, agro & social
One runs randomly underneath Kelethin, around its outskirts - lvl 9-10

Possible classes for all types are Assassin and Guardian
Community content is available under
CC-BY-SA
unless otherwise noted.