You may upload a JPG or PNG image of the in-game examine window.
EverQuest II Item Information
What does this information mean?
You may upload a JPG or PNG image of the in-game examine window.
Book Text
1st Lieutenant Mugreeza, 290 AS (House Item)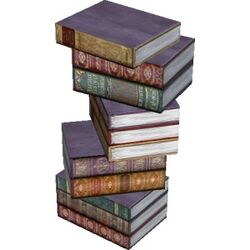 1st Lieutenant Mugreeza, 290 AS

Second Edition

This is the journal of a very important Lieutenant in the Second Rallosian Empire.

Day 3, 290: We have met our first Frogs today. The battle did not last long. It has been too long since we last slaughtered any one. Praise Rallos that there are more where these ones came from.

Day 74, 290: We are being harassed on all ends. These Frogs don't understand that we are Rallosians. We will not be defeated. It is not possible. Let them skirmish all they like. It will make no difference in the end.

Day 102, 290: The first wave has passed. They are now sending the next wave. Riding upon the backs of lizard creatures, they believe they will beat us. Let them come. They have only seen our trolls, not the true Rallosians.

Day 141, 290: We are running out of our beasts. The trolls are no match for cooperation of the Frogloks. I have played my hand by showing the Frogs one troop unit. We are now the proud owners of thousands of Froglok knights. Our food supplies will last for years.

Day 159, 290: I have sent a Froglok back to his home. He will send the message to their people. Our terms are this - Open the gates and we will slaughter them quickly. Hold out, and we will take our time. I took the messenger's eyes as a receipt that he will deliver the message.

Day 163, 290: A messenger has arrived from Rallos. We are to stay where we are and fortify the area. This spot we stand at will be our base of operations during the push into Gukta. The siege will continue once the General has arrived.

Day 390, 290: The messages come more regularly now. The General is close. He, with the Avatar of War, has visited with some foreigners. I do not understand, but he is my General. I trust his wisdom as long as I am part of the slaughter.

Day 90, 291: The Frogloks have mistaken our patience for weakness. I must inform them that we are Rallosians. We are not weak like they are. I have opened the gates to our fort. I invite them inside to lay waste to our camp.

Day 188, 290: The impaled corpses fill the swamp as far as I can see. Nowhere can one look and not see Froglok corpses rotting from spears. This message should be loud enough for the Frogloks. Hopefully, it will be loud enough for the world.

Day 307, 290: Have they no sense? They still keep coming. And we still keep slaughtering them. I hope their numbers have not dwindled. I will be sorely disappointed when it comes time to destroy their city if they do not put up a fight.
Community content is available under
CC-BY-SA
unless otherwise noted.